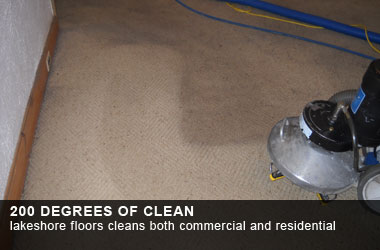 How Lakeshore Floors Cleans Carpet
Something to consider when picking your carpet cleaning company is what carpet cleaning and extraction tool they use. Most carpet cleaning companies use a simple wand. Not Us! Here at Lakeshore Floors we want you to have the cleanest carpet you can, so we use the rx20 spinmaster to clean all of your carpets. If you have pet stains on your carpet, we will suggest that you point out the pet stained area that needs special attention before the steam cleaning begins. All of our carpet cleaning trucks have a special solution just for urine stains. Just bring it to the carpet cleaners attention before he or she starts the carpet steam cleaning. When cleaning the carpet for pet stains or any large spills, the carpet and padding need to be treated. Only a professional carpet cleaning machine has the power to use steam carpet cleaning along with enough suction to remove the urine for the carpet and pad.
For all your carpet & steam cleaning needs, call Lakeshore Floors!
We Offer:
Residential Carpet Cleaning, Steam Cleaning, Tile and Grout Cleaning, Upholstery Cleaning, Area Rug Cleaning, Pet Stains and Odor Removal.
Commercial Carpet Cleaning, High Traffic Lane Scrubbing, Tile and Grout Cleaning, and Stripping & Waxing Services.
Carpet Cleaning
Carpet Cleaning is a simple and easy process. When one is looking for a quality carpet cleaner, there are a few things you should consider. Does your carpet cleaner use a truck mounted carpet cleaning machine, or a portable carpet cleaning machine? Does the carpet cleaning machine have heat? When cleaning a carpet, heat and Steam does matter. Steam helps break down dirt and stains, and it also helps disinfect your carpet, mattress, or furniture. A good carpet cleaning technician should make sure the water/steam temperature is around 200 Degrees.
Here at Lake Shore Floors, we strive to give you the best carpet cleaning job you can get. It all starts with our time tested prespray, which is applied before we extract. After a few minutes of dwell time, we use our Rx-20 SpinMaster to extract all dirt and chemicals from your carpet. For the cleanest possible carpet, we use a truck mounted system. With our extraction process we also use a fiver rinse to break down the enzymes of the chemicals, to make sure nothing is left behind. The Rx-20 Spin Master is far superior to the wand for many reasons, mainly that it hits each spot four, to five times; instead of just once. When one uses a wand, the technician has to apply pressure, which can be physically demanding after four jobs. Using the Rx-20 Spin Master is virtually effortless, and does not require the technician to be fresh. Remember, call Lake Shore Floors, for all your flooring needs.
Carpet Sales
At Lake Shore Floors, we understand that flooring is a large part of your home – your guests will see it, and you will live with it. Lake Shore Floors is here to help provide you with the knowledge nessassary to make your next flooring purchase the right one. We provide flooring solutions for Carpet, hard Wood, Ceramic Tile, Linoleum, Duraceramic, Pergo, and UCT Tile. We will come to your home or office to measure the area and bring samples to you, or we invite you to visit our large Showroom. Our installers are clean-cut professionals who are the top in their field, and have been with us for over 15 years.
With Lake Shore Floors, we make your next flooring purchase as easy as one-two-three-four. First we will talk with you to, figure out what would be best suited for you. We will provide examples for your price range, colors, and the type of carpet/hardwood floor. Next, we will come out to you, measure your floor and bring samples that would meet your criteria. (You can also come see us at our show room.) Third, we will work together to find the piece you love, and that meets all of your criteria. Finally, our installers come out to your home or office and remove the existing floor (or you may remove it on your own if you would prefer). The installers then prep the floor and begin the installation process of your new floor/floors.
Upholstery Cleaning
Your furniture is as important to a room's appearance as your carpet. That's why at Lake Shore Floors we use the same process on upholstery, as we do for carpet cleaning. Our time tested two-step upholstery cleaning system includes a specially formulated fiber rinse that removes the cleaning solutions residue right along with deep-down dirt, leaving nothing behind but clean, fresh-smelling fabric and furniture.
We apply the cleaning agents by hand, with a hand scrubber; this loosens embedded dirt. We then use a hand extraction tool. It acts just like a wand, just smaller. Fiber rinse combined with our extraction methods makes sure there is no cleaning agents left; most importantly, removing the dirt.
For all of your flooring needs, Contact Lakeshore Floors Today:
27530 Harper Avenue
Suite A
St. Clair Shores, MI 48081
(586) 291-7549
Pet Stains and Odor Removal
Through the years we here at Lakeshore Floors have learned a few things about removing pet stains and odors.
At Lakeshore Floors we remove pet stains and odors, we don't just cover them up or mask them with a deodorizer like some companies, we actually remove the pet stains and odors from your carpet and furniture. When removing urine from a carpet, you need to know that 90% of the odor causing bacteria is in the pad underneath the carpet. So, to truly remove pet odors you need a special tool called a water claw that has the ability to clean the pad under the carpet. When combined with a powerful truck-mounted carpet cleaning machine, it allows the Water Claw to extract the solution applied to the carpet and the pad, which eats and destroys odor causing bacteria found in all urine.
When you are looking or a company to remove stains or remove foul odors & bad smells in your carpet, Call Lakeshore Floors for carpet odor removal done right! (not all pet stains can be fully removed, such as vomit. Although the bacteria can be removed, Urine and Vomit will occasionally dye or bleach your carpet)